4 - 5 Marzo/Mars/March 2022
Casa della Cooperazione, via Ponte di Mare, 45/47 - 90123 Palermo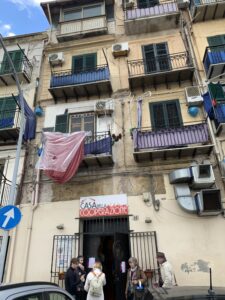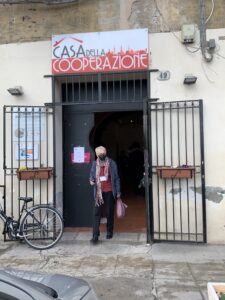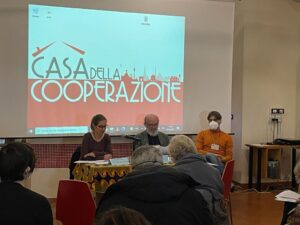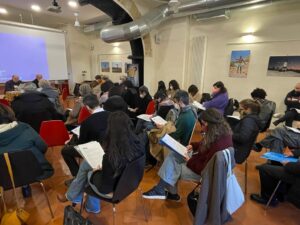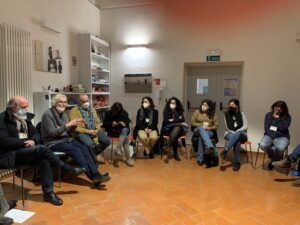 FRONTIERE : DAL SOGGETTO AL GRUPPO NELL'INCONTRO INTER/TRANSCULTURALE (Invito EATGA CISS MARS 2022 IT)
FRONTIERES : DU SUJET AU GROUPE DANS LA RENCONTRE INTER/TRANSCULTURELLE (Invitation EATGA CISS MARS 2022 FR)
BOUNDARIES : FROM THE PERSON TO THE GROUP IN THE INTER/TRANSCULTURAL ENCOUNTER (Invitation EATGA CISS Mars2022 ENG)
Gli attuali movimenti migratori di persone e famiglie all'interno del continente europeo ci mettono di fronte sfide sempre più complesse. Questi movimenti avvengono in situazioni di crisi, conflitti e cambiamenti a diversi livelli: sociale, culturale, sanitario, climatico, educativo ed economico, ed hanno un impatto duraturo su tutte le istituzioni e i gruppi.
Durante queste giornate, organizzate in partenariato dall'EATGA e dal CISS, ci proponiamo di creare uno spazio di riflessione, di confronto e di esperienza condivisa. I partecipanti si impegnano a esplorare e condividere ciò che, in una relazione con l'Altro culturale, facilita e/o ostacola un dialogo, un incontro e la creazione di uno spazio comune.
A partire dalle conferenze iniziali e dall'esperienza delle sessioni di gruppo, i partecipanti saranno invitati a riflettere e discutere i dispositivi più opportuni al lavoro o all'intervento analitico, psicosociale, educativo o terapeutico nei contesti interculturali attuali.
In che modo le nostre affiliazioni culturali influenzano il legame inter e transculturale e la sua relazione con l'alterità? Come possiamo pensare i confini tra individuo/gruppo, qui/altrove, omogeneo/eterogeneo, terra/mare, cultura/culture, che emergono nell'approccio e nell'incontro transculturale?
FR – Les mouvements migratoires contemporains de personnes et de familles au sein du continent européen, nous confrontent à des défis de plus en plus complexes dans la vie en commun. Ces mouvements s'inscrivent au sein de situations de crise, de conflits et de changements à différents niveaux : sociaux, culturels, sanitaires, climatiques, éducatifs, économiques, qui ont un impact durable sur l'ensemble des institutions et des groupes. Lors de ces journées, organisées en partenariat par l'EATGA et le CISS, nous proposons de créer un espace de réflexion, de confrontation et d'expérience commune et partagée. Les participant.e.s s'y engagent à explorer et à partager ce qui, dans un rapport avec l'Autre culturel, facilite et/ou empêche un dialogue, une rencontre et la création d'un travail en commun.
A partir des exposés et de l'expérience des séances de groupe, les participant.e.s seront invités à réfléchir et à échanger sur les dispositifs adéquats pour un travail ou une intervention analytique, psychosociale, éducative ou thérapeutique dans les contextes interculturels actuels.
De quelle manière nos appartenances culturelles influencent-elles le lien inter- et transculturel et son rapport à l'Altérité ? Comment penser les frontières entre individu/groupe, culture/cultures, ici/là-bas/ailleurs, terre/mer, homogène/hétérogène qui se posent dans l'approche et la rencontre transculturelle ?
EN – Contemporary migratory movements of people and families within the European continent confront us with the increasingly complex challenges of living together.
These movements take place in situations of crisis, conflict and change, impact at different levels – social, cultural, health, climate, educational and economic – and have a lasting effect on all institutions and groups.
During the study days, organised in partnership by the EATGA and the CISS, we propose to create a space for reflection, confrontation and shared experience.
The participants will explore and share what, in the relationship with the cultural Other, facilitates and/or hinders a dialogue, an encounter and the creation of work in common.
Based on the experiences of the group sessions, the participants will be invited to reflect and discuss on the appropriate group arrangements for analytical, psychosocial, educational or therapeutic work or intervention in today's intercultural contexts.
How do our cultural affiliations influence the inter- and transcultural bond and its relation to Otherness? How can we think about the boundaries between individual/group, here/there/elsewhere, homogeneous/heterogeneous, land/sea, culture/cultures, which arise in the transcultural approach and encounter?